2-Pin Screw Terminal 2.54mm Pitch (Pack of 4)
2-Pin Screw Terminal 2.54mm Pitch (Pack of 4)
These side-entry screw terminal blocks have a pitch of 0.1″ (2.54 mm), and can be used as alternatives to standard 0.1″ male or female headers on many PCBs and prototyping boards. Each block has two terminals for the stripped ends of 26 – 18 AWG wires. They are rated for 150 V, 6 A and ship in pack of four.
The following dimension diagram is for an N-pin version of this screw terminal block: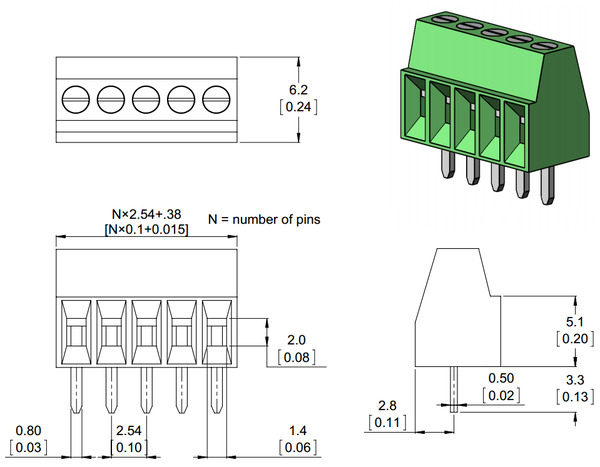 Screw terminal block: 0.1″ pitch, side entry.
Specifications:
Voltage rating: 150 V
Current rating: 6 A
Contact resistance: 20 mΩ
Wire gauge: 26-18 AWG
Wire strip length: 4.5 mm
X2 Robotics © 2023. All Rights Reserved.